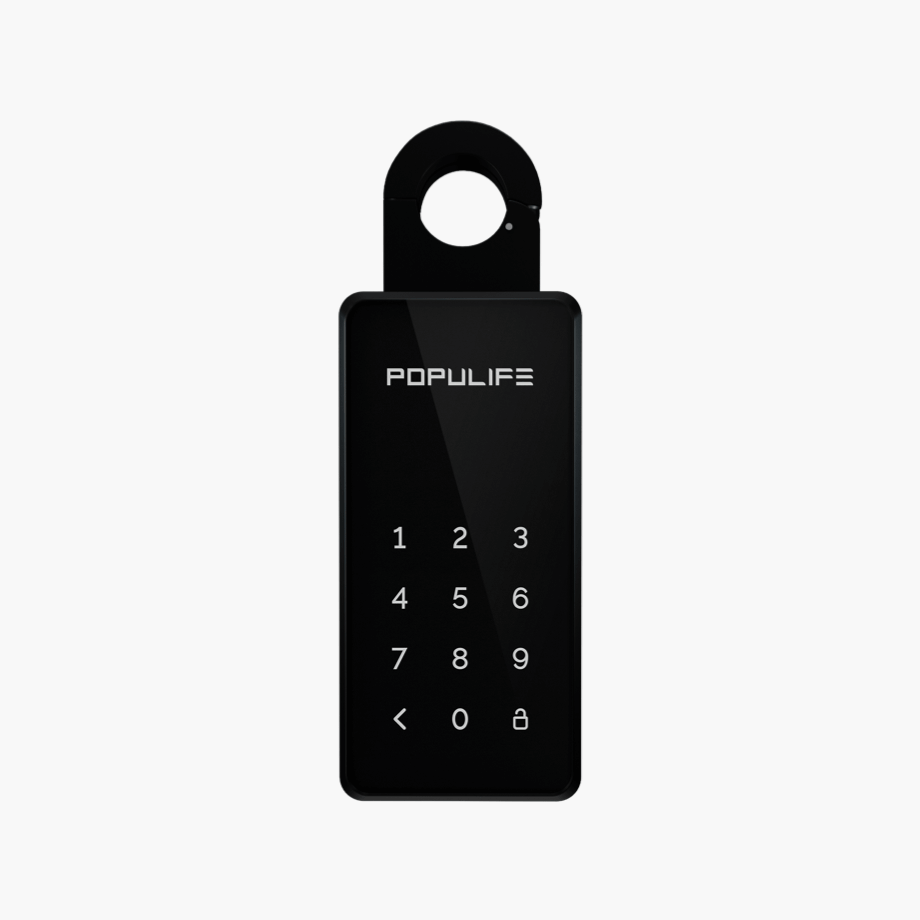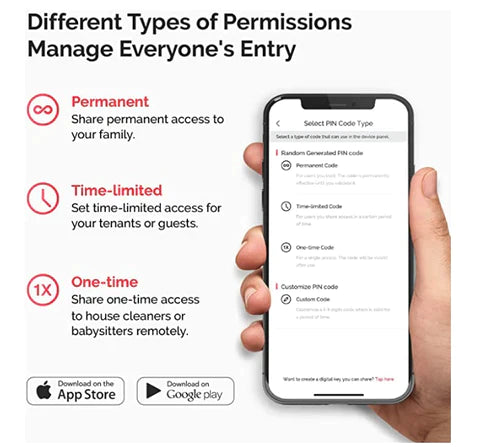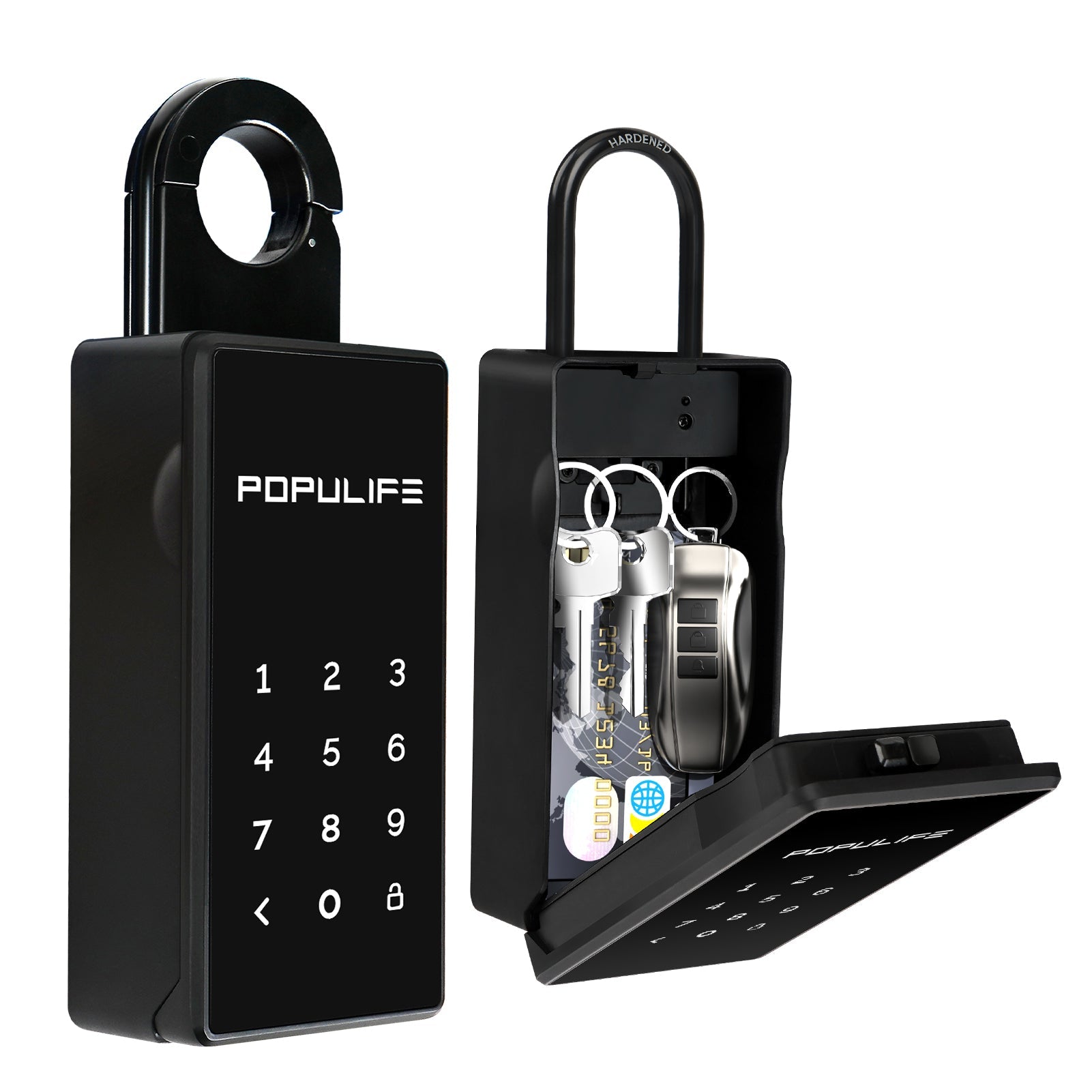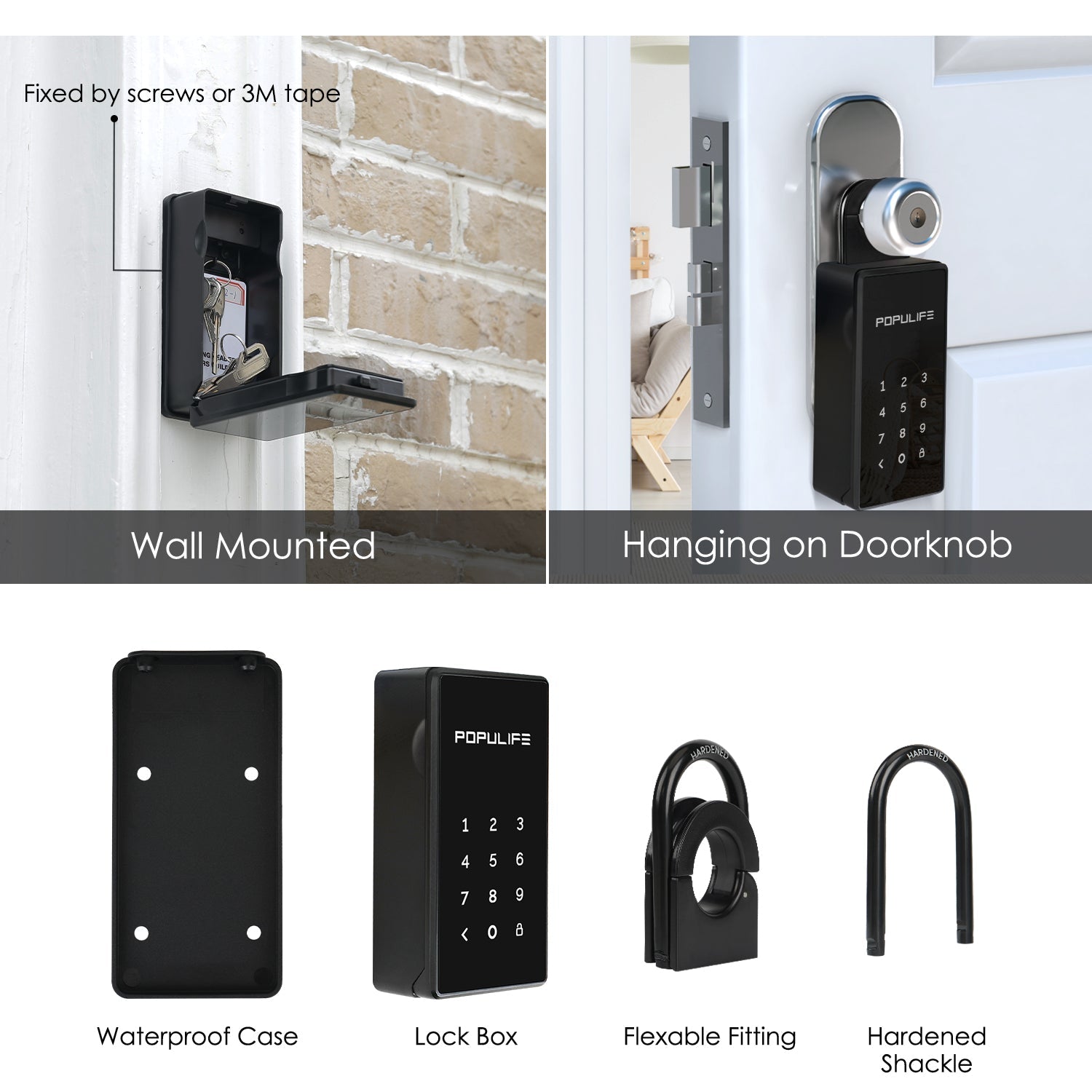 Populife Smart Keybox Pro-offline version
Description
Affordable, secure, and durable smart key safe to hand over house keys or car keys. Manage and share access, and keep track of unlocking activity with Populife App.
Bulk Deal
| Quantity | Discount | Discounted price |
| --- | --- | --- |
| 2-5 | $10.00 | $119 |
| 6-20 | $20.00 | $109 |
| 21-999 | $30.00 | $99 |
*Discount will be automatically calculated at checkout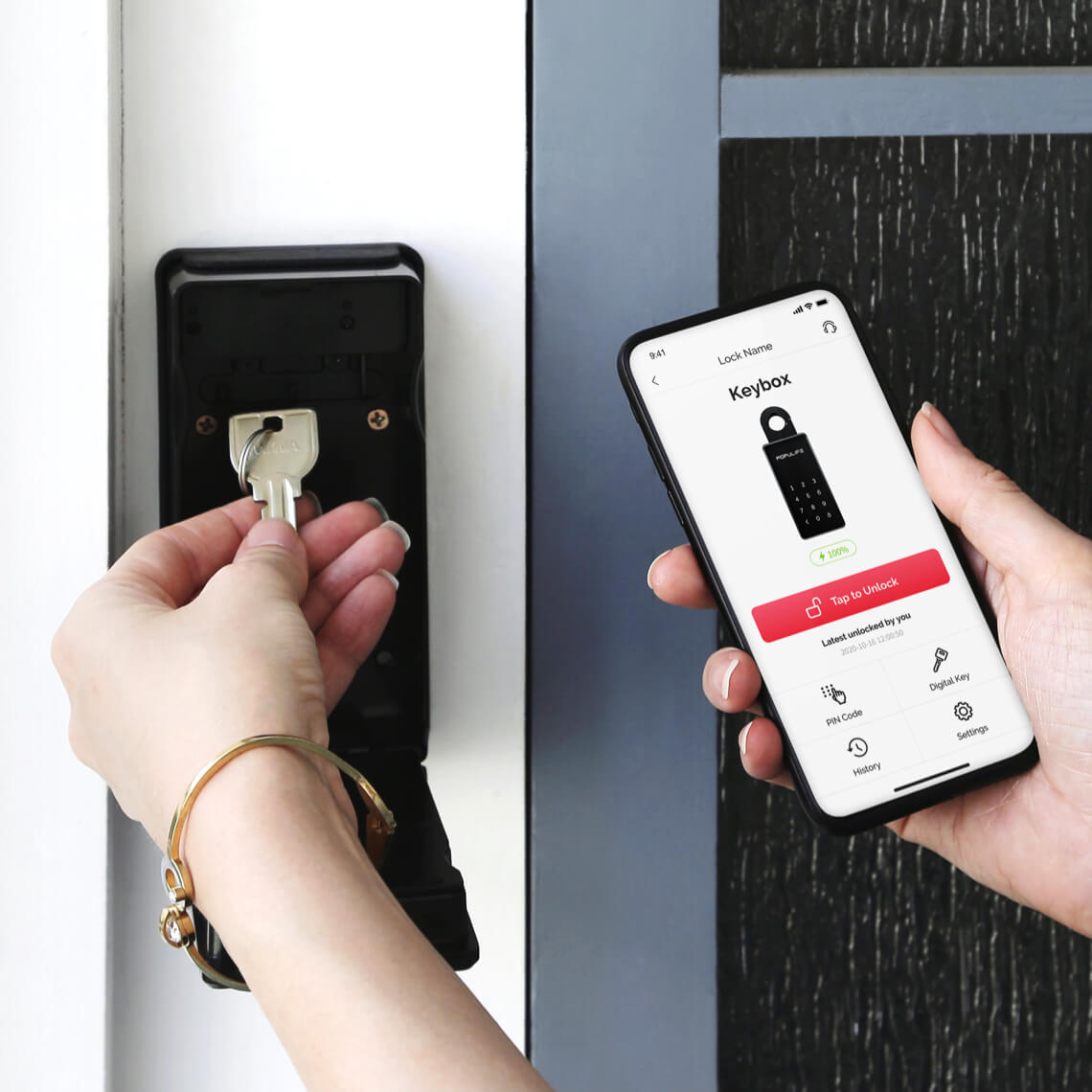 Easy to share
Two Ways To Grand Access
Way 1: Generate PIN codes on the "Populife" App, and share them remotely with your guests through text messages.
Way 2: Share the digital key and let your guests unlock the Smart Keybox in Populife App via Bluetooth.

* You can check all access history via Bluetooth in Populife App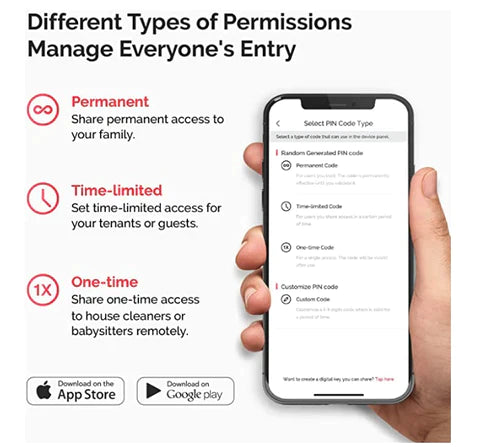 ADAPT TO ALL SITUATIONS
Multiple Permission Levels
Populife Mobile app allows you to schedule access and set different permission levels from anywhere:
1. Permanent Access - Perfect for family members who don't want to carry physical keys anymore.
2. Time-limited Access - Perfect for your Airbnb or Office, you could schedule short-term or repeating access time. Access will deactivate when the access period is over.
3. One-time Access - Perfect for temporary or urgent access. Access will be burned after use.
Zinc alloy body, strong and durable. Withstand fall within 1 meter.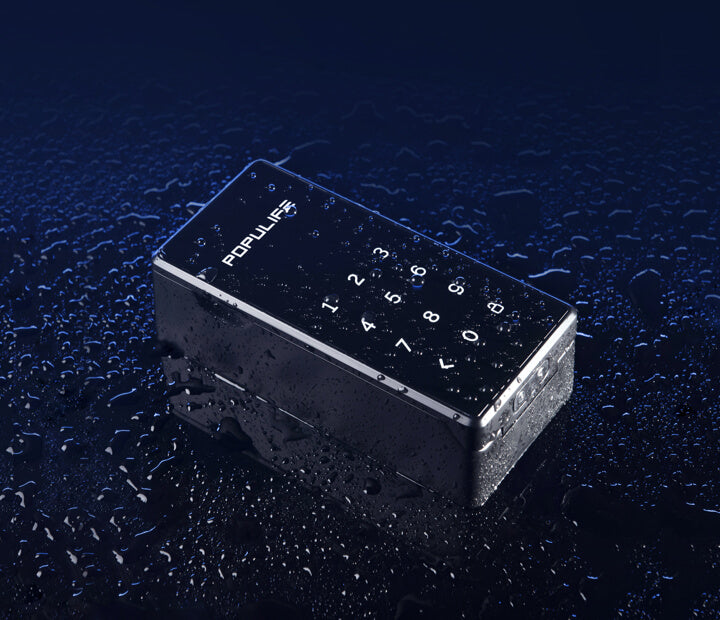 Could be used for outdoor, operation temperature ranges from -25°C~55°C (-13°F~131°F).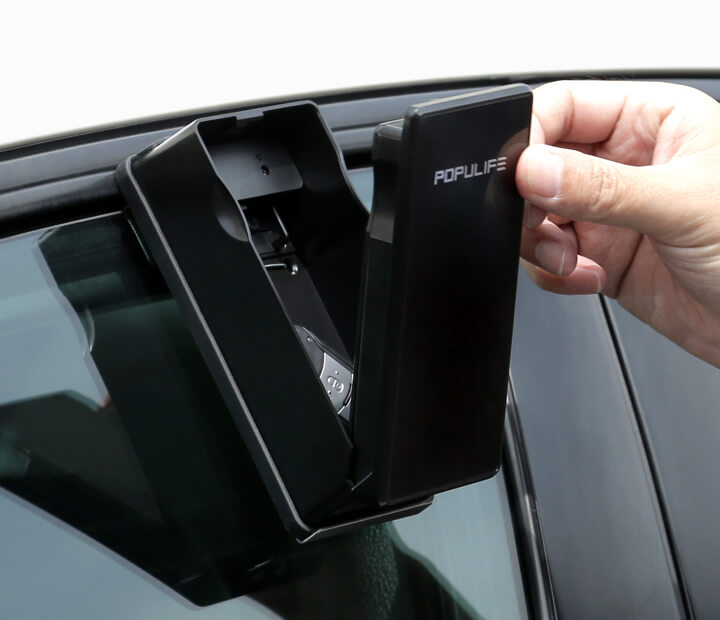 Min.10,000 times lock & unlock or lasts for 12 months.
Shackle or Wall mount
Install Within Seconds
Start your keyless experience today without replacing your existing lock. Simply hang the Keybox on your doorknob or mounted it on the wall and it is done!
Populife Keybox has two types of shackles, and it fits on any type of doorknobs, handles, and even fences or gates.
Extra Space
Spacious and Capable
Spacious design allows the Keybox to efficiently fit up to 6 keys, 30+ keycards, or other small valuable items.
It could also occasionally be your portable mini safe when you are out surfing or hiking.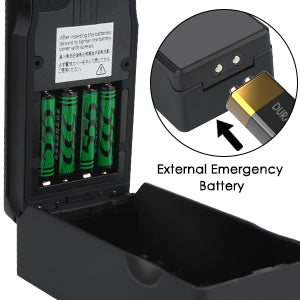 ONE YEAR of power
Ultra Long Battery Life
Populife key box uses BLE Technology to make it consume less power and last longer. 4 AAA Alkaline batteries give you up to 10,000 lock/unlock operations (approx. 12 months). The app will also give you a battery alert when it reaches 20% power.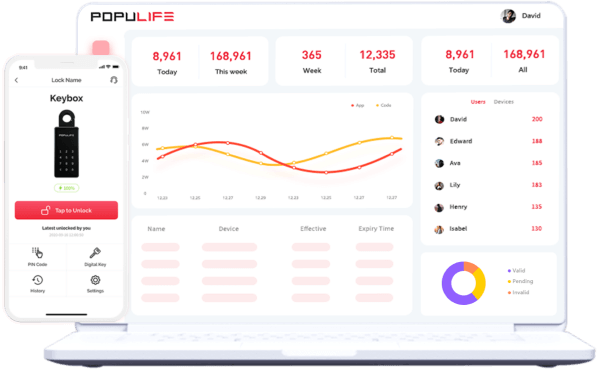 Simplify Your Workflow with Our Cutting-Edge Technology
Effortlessly Manage Your Propertys with Populife SaaS
Populife's Smart Keybox and SaaS give you complete control over your devices and data. Our Open API integration allows for seamless integration with your existing management system, make it simple to streamline your workflow, saving you time and reducing errors.
Easy to Install and Use
Only 4 steps to install and initialize the Keybox.
Security Features for Your Peace of Mind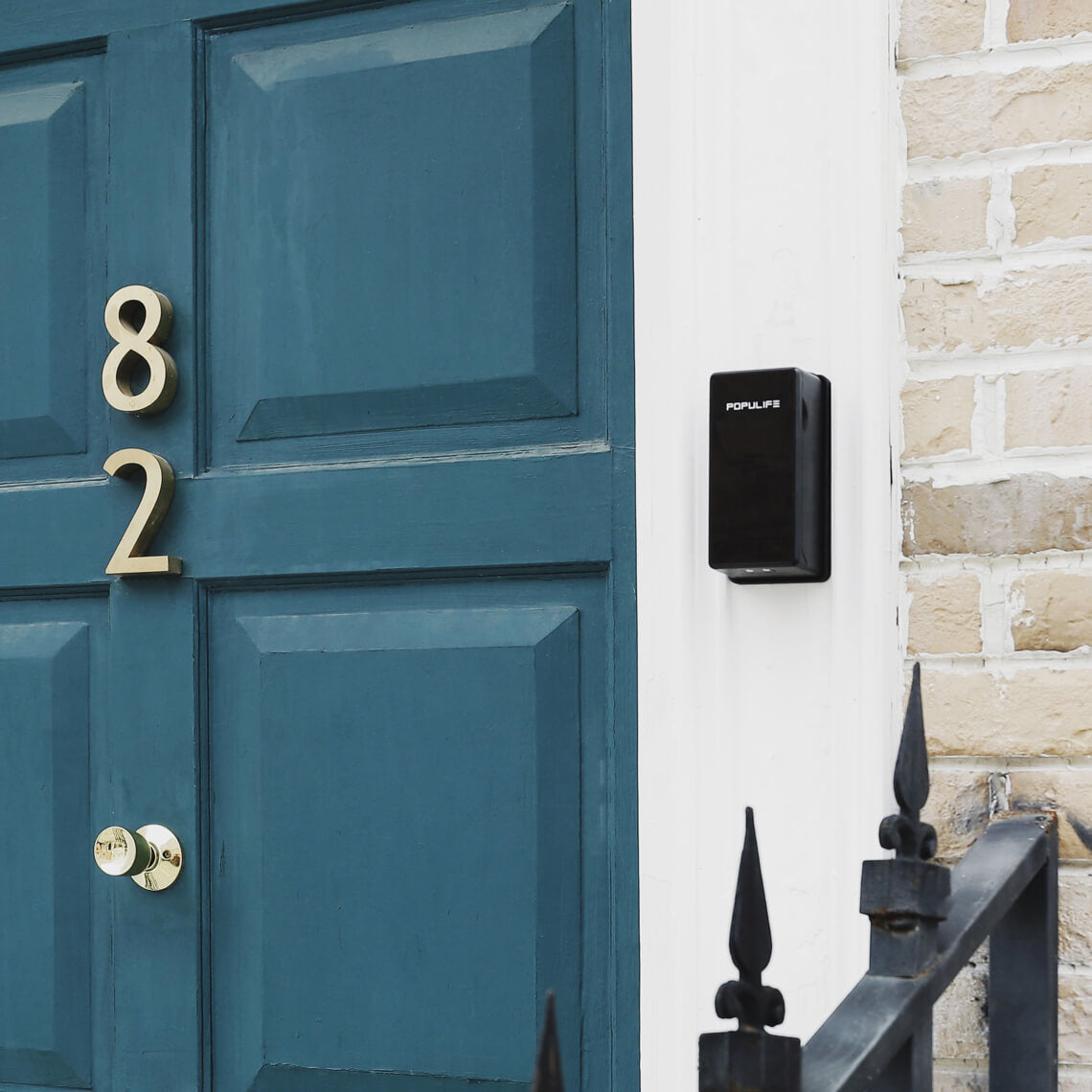 • 3 Levels of User Authority Management
• Automatically lock after closing the Keybox
• Decoy codes before/after the real PIN code
• Beeping alarm when it close improperly
• Low battery notification when it reaches 20%
• Supply Emergency Power with a 9V Battery
How it works
Here are the main ways to unlock:
App Unlocking: With the Populife app, you can remotely share digital keys and let your guests unlock the Smart Keybox through Populife App. You can set a specific validity period for the key, freeze or delete it once it's no longer needed.
2. Keypad Passcode Unlocking: Using the numeric keypad on the device by entering an access code.

* You can easily manage your guests' self-service access process and set a specific validity period. Once the validity period ends, the access codes and digital keys will automatically expire.
Great news! Our product is the perfect solution for Airbnb hosts, property managers, and car rental companies. You can generate time-limited access codes for your guests remotely from anywhere on the planet using the Populife App.

Our proprietary algorithm technology allows you to do this without the need for the device to be connected to the internet.
As the owner of the device, you can also set an administrator code. Populife Smart Keybox also offers various types of passcodes to cater to your access needs. You can select from the following options:
Permanent codes: randomly generated by the system and can be used indefinitely.
Time-limited codes: randomly generated by the system with a specified valid period.
One-time codes: randomly generated by the system and expire after one use.

Custom codes: 6-9 digit passwords set by you with a specified valid period.
* Permanent codes, Time-limited codes, and One-time codes can be generated remotely without the need for the keybox to be connected to the internet.

Populife Smart Keybox can store up to 300 unique and valid passcodes. Once a code expires or is deleted, a new quota will be available again for generating new passcode. You can generate an infinite number of passcode!
Other
If you're purchasing our Smart Keybox for personal use, you'll only need to use the App during the initial setup process. Afterwards, you can always unlock the keybox using the keypad.

We also offer an Electronic Keybox thatthat works without the App at all, and can be fully controlled through the keypad commands.

However, it's worth noting that the Smart Keybox provides the added convenience of being able to view unlock records and generate time-limited access codes through the App, features which are not available with the Electronic Keybox.
No worries. Populife Smart Keybox is equipped with low-power Bluetooth technology, providing up to 12 months of battery life. At 20% battery level, the keypad flashes and the Populife App displays the remaining power.
And in case of emergency, simply use a 9V battery to power up your keybox. With Populife Smart Keybox, you'll never have to worry about losing access to your valuables again!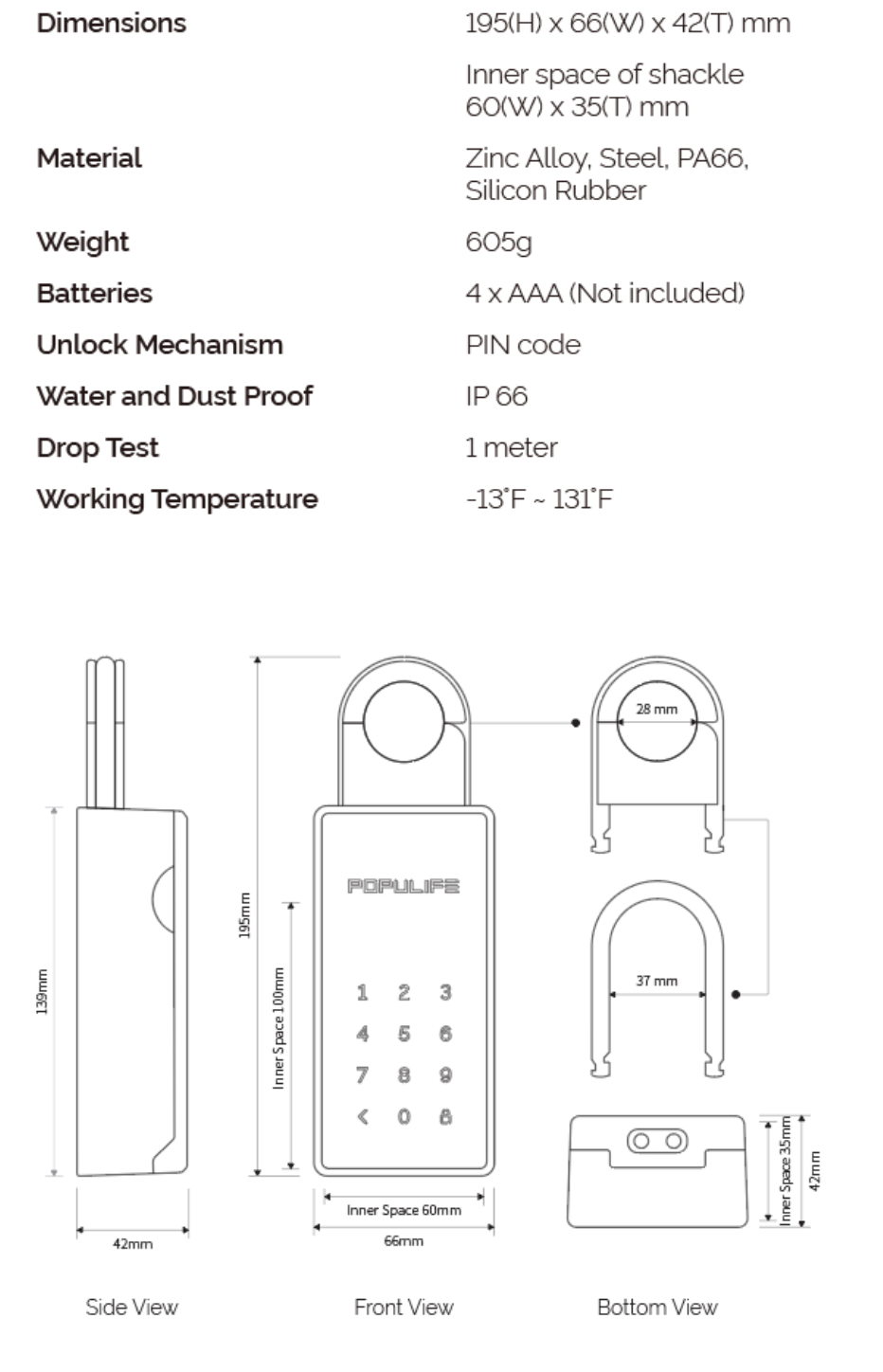 Does it fit to you?
We often get asked a lot by how long and how height it is? What is the thickness of it? Here, we show you everything in a glance.
Color
Black
Dimensions
Overall Size: 195(h) x 66(w) x 42(D) mm
Inner Dimensions
100(h) x 60(w) x 35(D) mm
Hanging Hole Size
Diameter: 28.6mm (1-1/8")
Material
Zinc Alloy
Weight
2.20 Pounds
Unlock Options
PIN Code, Bluetooth Key via App
Installation Options
Mounted on wall or hanged on Knob
Door Thickness
No Limited
Durability
10.000 times lock & unlock (approx 12 months)
Water & Dust REsistance
IP66
Working Temperature
-25°C~65°C (-13°F~149°F)
Certificate
FCC, CE ESD, TELEC
Battery
4 AAA Batteries
Warranty
One-Year Limited Warranty
Emergency Battery
9V Alkaline Battery (Not Included)